El servicio de streaming de Funimation debe ya estar a la vuelta de la esquina para Latinoamérica, ya que, tal como mencionan en Funianime Brasil, ya es posible apreciar publicidad del servicio en YouTube y otros sitios de que poseen Google Ads en todo el continente americano aunque solo en ingles por el momento.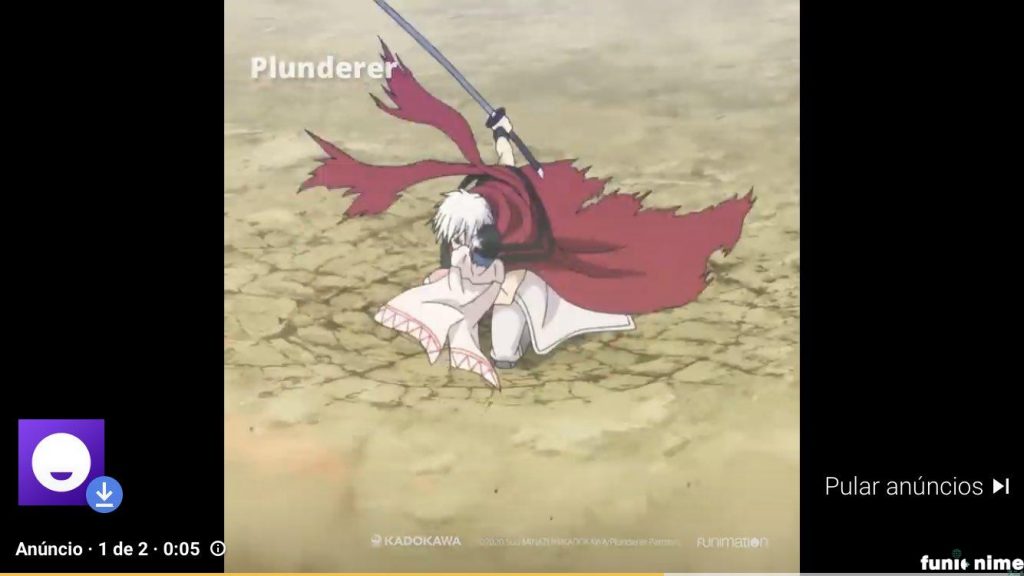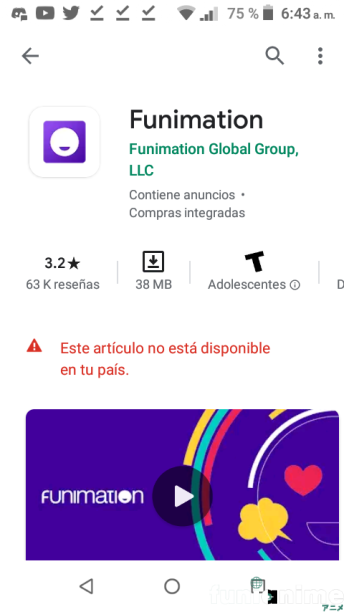 Además de poder acceder directamente desde el navegador, las aplicaciones tanto para Android e iOs ya están disponibles en sus respectivas tiendas, pero lamentablemente están bloqueadas de momento en nuestro territorio y solo es posible descargarla en Android desde sitios de terceros.
Funimation hasta el momento solo acepta tarjetas de crédito teniendo un costo de US$7,99 por mes (El precio baja si contratas por más tiempo) con una prueba inicial  gratuita de 15 días.
Sin duda la plataforma tiene un gran contenido de anime tanto en japones como en ingles, pero de momento no existe la opción de doblaje en español o de subtitulos en español, algo que los mismos usuarios hispanohablantes del territorio estadounidense piden en los comentarios de la PlayStore.
Hay mucho contenido 🙂 pero hasta el momento no hay audio español disponible en Funimation.

Visita https://t.co/HDd50I6CNa ✌️ pic.twitter.com/2Rtu3uH5RA

— Alextastico (@andre_alex16) June 3, 2020
Es un hecho de que NO todo el contenido disponible en Estados Unidos, Canadá y otros, estará disponible en Latinoamérica por temas de licencias, pero el contenido sin duda no será poco y hasta el momento está confirmado Shingeki no Kyojin, Assassination Classroom, Tokyo Ghoul y Steins;Gate que incluirán la opción de doblaje al español latino.
A continuación te dejo un listado de algunas de las series, película y ovas con las que cuenta la plataforma.
Disponibles en USA y otros territorios angloparlantes.
Plunderer
Hatana Illusion
Tamayomi: The Bseball
Kono Oto Tomarel: Sounds of Life
Kochoki
The Ones Within
Strike Witches
MIX
Hensuki
Demon Lord, Retry!
Fruits Basket
A3!
Shironeko Project ZERO Chronicle
Gleipnir
Shachibato! President, It's Time for Battle
Kaguya-sama: Love is War
Arte
Wave, Listen to Me!
Listeners
Bungo and Alchemist
Sakura Wars
Nekopara
Kakushigoto
Cop Craft
The Rising of the Shild Hero
A Certain Scientific Railing
Sakura Quest
Katsugeki TOUKIN RANBU
Black Clover
Magia Record: Puella Magi Madoka Magica Side Story
Gal & Dino
Bakemonogatari
Fairy gone
Sarazanmai
My hero Academia
Sgt. Frog
YU-NO: A girl who chants love at bound of this world
Love Live!
Torodora!
A Full in the Sea
OverLoad
BEM
APPARE-RANMAN!
Kingdom
Sorcerous Stabber Orphen
Hinomaru Sumo
Fire Force
Phantasy Star Online 2
22/7
BOFURI
Rurouni Kenshin (Samurai x)
Isekai Quartet
Attack on Titan
AFTERLOST
Astro Boy
DAKAICHI
Kimba, el león blanco
Revolutionary Girl Utena (El anillo mágico)
Princess Knight
Actors: Songs Connection
No Guns Life
Africa Salaryman
Shin Godzila
After School Dice Club
Ghost in the Shell: Stand Alone Complex
We are X
Yu-Gi-Oh!
Restaurant to another world
Ace Attoreney
Angels of Death
Fairy Tail
Naruto
Dr. Stone
Fate/Grand Order
Angel Beast!
Silver Spoon
Gravitation – Lyrics of Love
Conception
Tokyo Ghoul
Demon Slayer
Fate/Zero
Free!
Ghost In the Shell
Bungo Story Dogs
Black Butler
Blood-C
Samurai Warriors
Akira
Bayonetta
Parasyte Live Action
Full Metal Alchemist: Brotherhood
Fuuka
Sakura card captor: Clear card
Stains;Gate
Los niños lobos
La chica que saltaba a través del tiempo
Summer Wars
Sword art Online
PSYCHO-PASS
Pop Team Epic
Star Blazers
Full Metal Panic!
Hina logic
Hataka Tonkotsu Ramens
La Espada sagrada.
Assassination Classroom
Saiki k
Death Parade
Junjo Romantic 3
Ai Tenchi Muyo
Yu Yu Hakusho
Ouran High School Host Club
Tenchi Muyo!
Yuri on ice
Lupin III
Rainbow Days
Y mucho más.
Lista de posibles series disponibles en Latinoamérica.
Shingeki no Kyojin
Assassination Classroom
Tokyo Ghoul
Steins;Gate
Claymore
Kekkai Sense
Esperamos tener más novedades pronto.